Good Teamwork Gives Results in the Saw House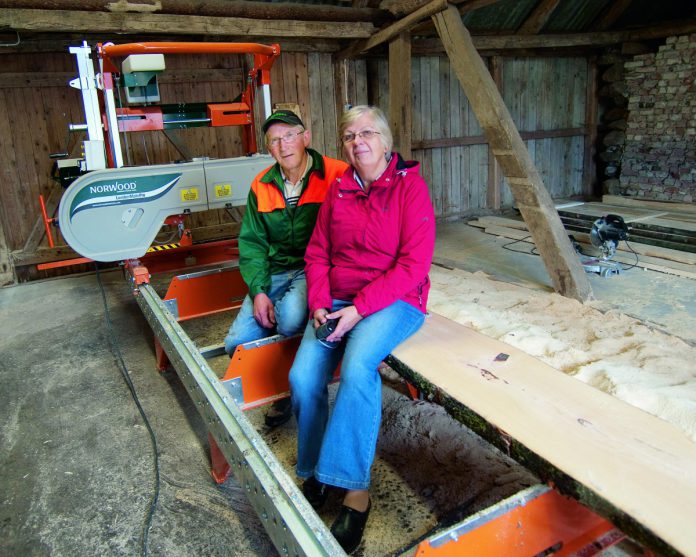 For the couple Ingemar and Anita Persson in Huaröd, Sweden, the choice was easy when LOGOSOL launched the band sawmill LM Pro. "We have large-diameter hardwood trees and LM Pro can handle these diameters," says Ingemar as he shows the sawmill, on which an over-sized beech log is lying to be sawn. To run a farm you need teamwork, and this also benefits the sawing.
The sawmill runs smoothly and quietly with an excellent sawing result. When Ingemar brushes off the sawdust from the newly sawn log, Anita inspects the result. She usually joins in the sawing. "I'm used to lending a hand. You run a farm together and this also includes the forest and the sawmill," she says.
Taking care of the trees themselves
Until five years ago, the couple run a dairy farm in Sjöbo and the forest farm in Huaröd. The dairy farm was sold but they kept the forest. The farm in Huaröd consists of 247 acres of mixed woodland. For bigger thinning and felling projects they hire contractors. But now and then a couple of trees are blown down, and it costs more than it is worth to let a contractor do the job.It is better to take care of the trees yourself with your own sawmill.
Nothing goes to waste
They have sawn a good deal during the months the sawmill has been in operation. Even the sawdust comes in handy. This is used by the tenant of the farmland.
"In our generation it works like this. We were brought up not to let anythin go to waste," says Anita. There is also a fun factor in their work. Both Ingemar and Anita like to was, to produce the timber needed on the farm, and assist the children with building materials. In their plans, there is also a small log house included.
Logosol Norwood LumberPro HD36, known as the LumberMate Pro in North America and the UK, is an entirely new sawmill that has all the advantages you would otherwise find in a significantly larger and more expensive band sawmill.