Artwork in different woods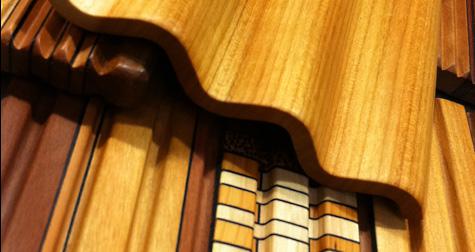 Klaus Kralovec is an artist who has chosen to work in wood. By gluing together different types of woods into blocks and then plane and process the material, he creates beautiful designs and unique products. In his workshop stands a four-sided planer/molder.
We met Klaus at Ligna trade fair in Germany. His big booth was well attended and the products he shows is both unique and beautiful.
Colors and patterns in wood
The gluing technique he uses gives the wood color and pattern. And by several washes, processing of oils and waxes, he gives the products a smooth, velvety finish. Types of wood he uses is often pear, elm, yew, cherry and walnut.
Useful arts
These products are not only beautiful but also useful. The range of products including glass and pot stand, pens, pen holders and bottle holders.
Please visit Klaus Kralovec´s website, you will find a lot of pictures – from both the workshop and of exciting products. The link provided below:
With the PH260 you can take sawn lumber and simply turn it into a profitable finished product. The PH260 planes and moulds 4 sides at once.