Using two Log house Molders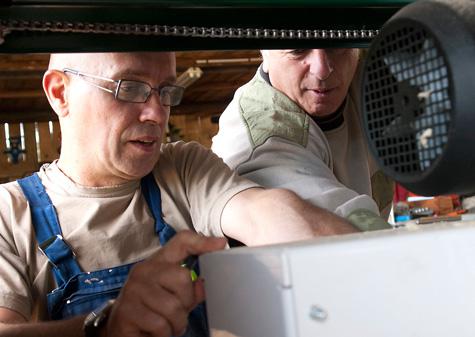 France is a country built from stone, brick and, in recent years, concrete. Raymond Herberteau intends to change all that. He may well be a mayor, but he's going to achieve this change using his own sawmill.
Raymond Herberteau is mayor of the small village of Les Ventes de Bourse just outside the town of Alençon in Normandy. His wife comes from Belarus, and he has drawn inspiration on how to build climate-smart and energy-efficient housing from the same country.
"The log houses in Belarus are fantastic," he says enthusiastically.
That may be true, but how does such a style fit in with the French building tradition? The houses along the country lanes, including the mayor's, are all built from natural stone walls. On the other hand, the Belarusian style of construction does suit both the surrounding countryside and our shared environment much better.
Better for the climate
"One of the French government's aims is to increase the number of wooden houses," explains Raymond Herberteau.
There are two reasons for this. Firstly, trees bind carbon dioxide and by building out of wood you could say we're imprisoning the greenhouse gases in the walls. Secondly, wood is an excellent material for building low-energy housing. The inspiration from Belarus caused a few problems. Ready-to-use timber cannot be bought in France. The solution was to buy a sawmill and start making timber from trees felled in local forests.
"In this neck of the woods, there's a lot of Douglas spruce, which is ideal for timbering. And there's also a fair amount of oak," he says, pointing to a healthy pile of 30-ft-long logs.
The plan is to build 2-3 fairly large timbered houses for year-round occupation on the property, for rent and for sale. The houses will be made from 5-inch lumber and the inside of the walls covered with cellulose insulation. They will be passive houses that only need additional heating on the coldest days of the year.
The project started in early 2009 with an assessment of the market's small-scale sawmills. A lot of thick and long wood needed to be sawn. The best option was a band sawmill and he found the Logosol Norwood band sawmill on the internet. This sawmill met all his requirements and Logosol also offered the a log molder, which Raymond Herberteau thought was very good value for money.
Double molder
In the spring of 2009 he traveled to Logosols headquarter in Sweden so he could take a proper look at the sawmill and log molder. He liked what he saw and it was a done deal. There is now an impressive setup installed in a newly built machine room in Les Ventes de Bourse. Bolted securely to the concrete slab floor is the sawmill with a 36-ft-long rail, plus a double log molder.
"One side is set up for straight planing and the other for molding. It saves a lot of time," explains Raymond Herberteau.
He believes the log molder to be an unusually well-priced piece of machinery. He also bought two special handheld machines for making the corners. They cost more than the molders. The sawmill is not alone; the machine room also boasts a Logosol PH260 4-sided planer. Originally this was used to make dowels, round battens, for the timbering. Its next task will be strips and panels for the houses.
The highest precision
When we visited him, Raymond Herberteau was in the middle of aligning his setup, helped by Gérard Doucet, who is assisting with the project and will be building a timbered house for himself as well. The timber looks like a cross between the Swedish version with tongue and groove and the American D logs.
"I made a sketch of the profile shape during a trip to Belarus and sent the drawing to Logosol, and they made up the right sort of steel," he tells us.
This is a profile with a push fit that requires high precision when molding. Which is why the 36-ft-long sawmill is equipped with a precision molder guide on each crossbar along the entire length of the rail. Once everything is set, log after log can be sawn and molded on a conveyor belt.
"I've always been interested in wood. For me this is both a real pleasure and a business project. The result will be genuinely attractively houses," says Raymond Herberteau.
A unique log moulder that can do something no other moulder can: besides being a log moulder, the Logosol LM410 is also a jointer/planer for beams of dimensions up to 600 x 600 mm (24" x 24"). It has to run on rails.