The Pettersson family just outside of Åmål are what you might call big users of Logosol products. During the construction of his new house, Anders Pettersson sawed 5,500 running meters with Logosol's Bandsaw B751 and ran parts of it in a planer from Logosol.
Anders went to forestry school in Dals Ed in the 80s and then worked in forestry for 6–7 years. He then changed his profession, but continued to farm his own forest. The family's farm is called Kesebol and consists of 150 hectares, of which 120 are productive forest land. The house that Anders is in the process of completing is 125 square meters and is beautifully located on a hill with a fantastic view of Hultsjön.
"All of the wood for the house, except for the beams for the roof, has been sawn with the B751 from Logosol. There has been 60-70 windfalls from our forest property in the past year alone," says Anders.
Four Logosol Mashines on the farm
Anders had a chain sawmill from Logosol for 7 years before he switched to the B751 Band Sawmill in 2019.
"With our planer from Logosol, we have, for example, planed siding, joists and also planks for the deck," says Anders.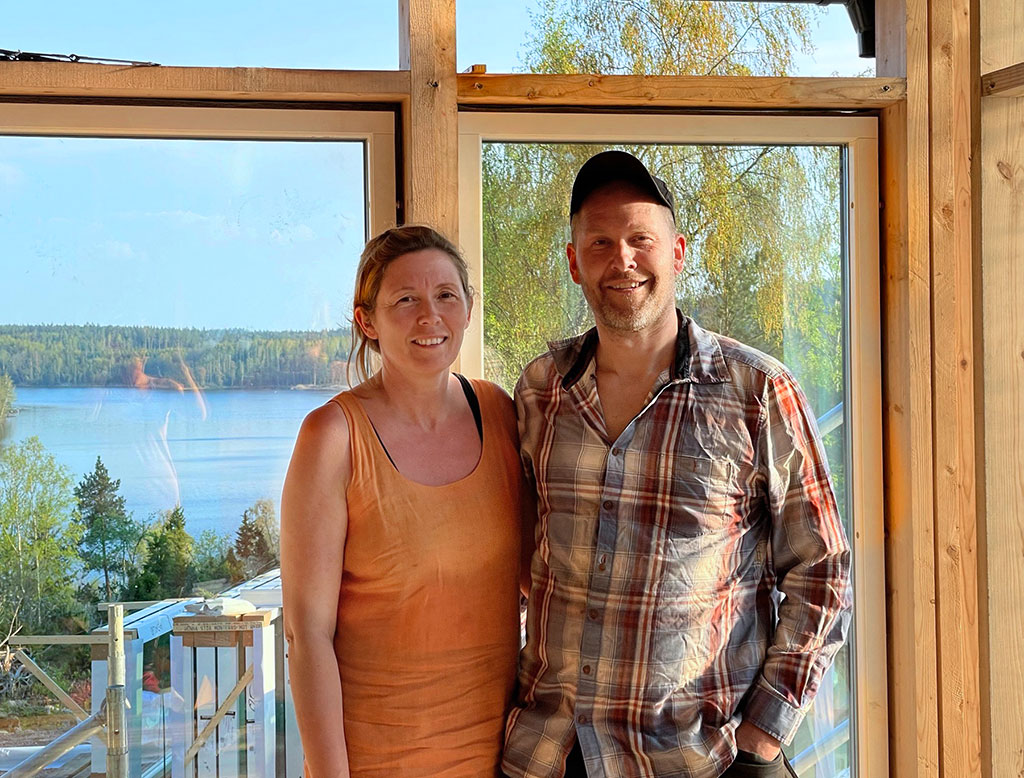 Anders and Carina next to the view of Lake Hultsjön.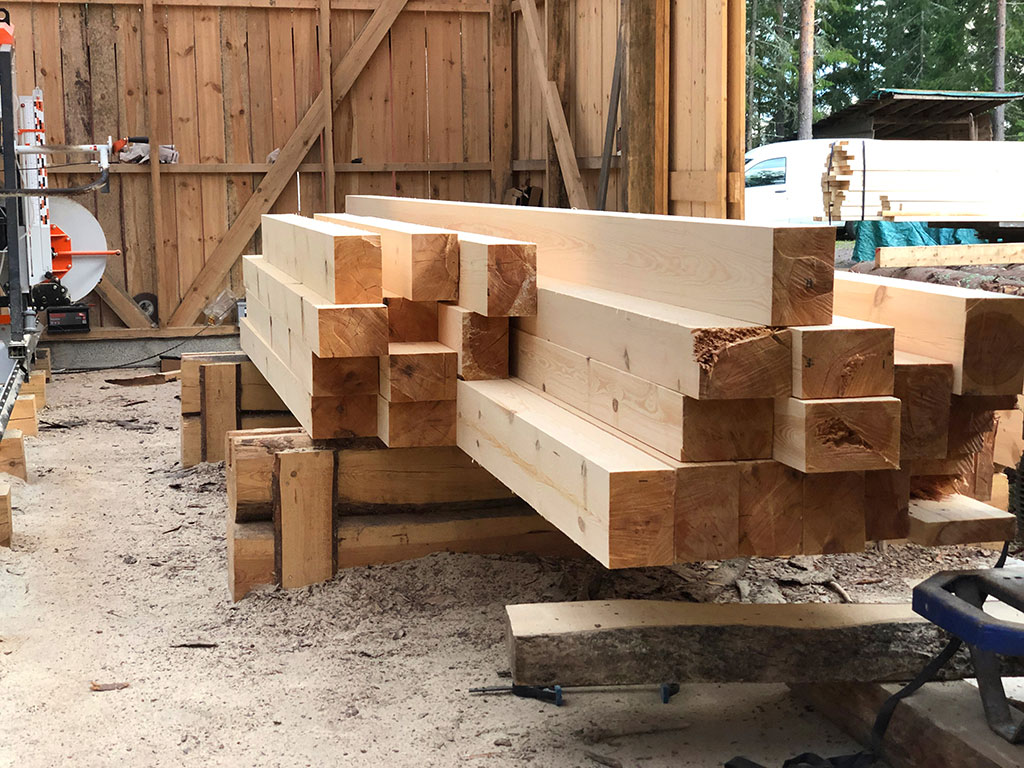 Solid support lines sawn to the foundation of the house.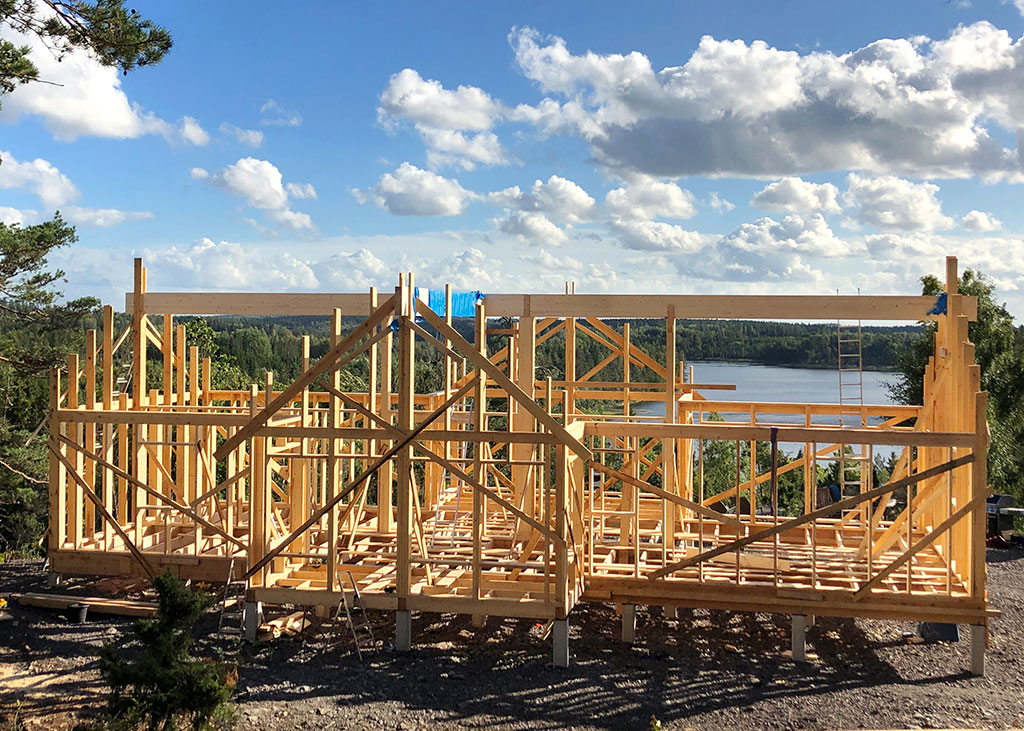 Anders sawed all the wood for the house himself, except for the beams
Naturally, owning your own sawmill and planer is very handy when building and renovating. When the joists and the roof were up, the freshly sawn facade was nailed up in the autumn of 2020 and finished in the spring, when it had completely dried. During the spring and summer, Anders and the family worked on the interior and installed windows.
Super easy to get the right dimensions
Anders talks about how handy it is to be able to cut to one's own dimensions for the house.
"I have sawn many different dimensions of lumber for different parts of the house."
The next page shows the impressive list of construction timber that the Petterssons easily sawed according to their own wishes and needs. This is something very easy to achieve with your own sawmill.
Lots of projects with self-sawn wood!
In addition to the residential building, the family has built a large saw house on a concrete foundation with storage and an extension to Tomas' (son) house, two lean-to shelters and a wood-fired hot tub.
"With your own sawmill, you have the opportunity to produce exactly the materials you need. There are always building structures that need to be fixed and new construction projects to tackle."
"It's fun to saw and build together", says the Pettersson family, who together have created buildings that will bring pride for generations to come.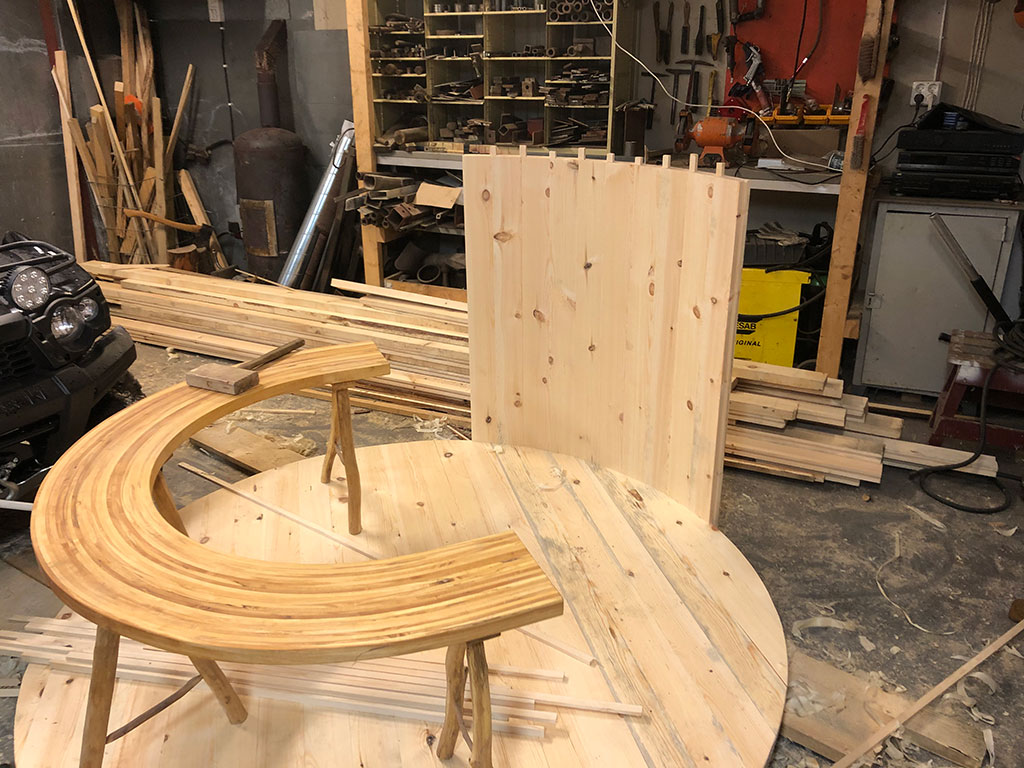 Thomas have also built benches with bent glue lamination.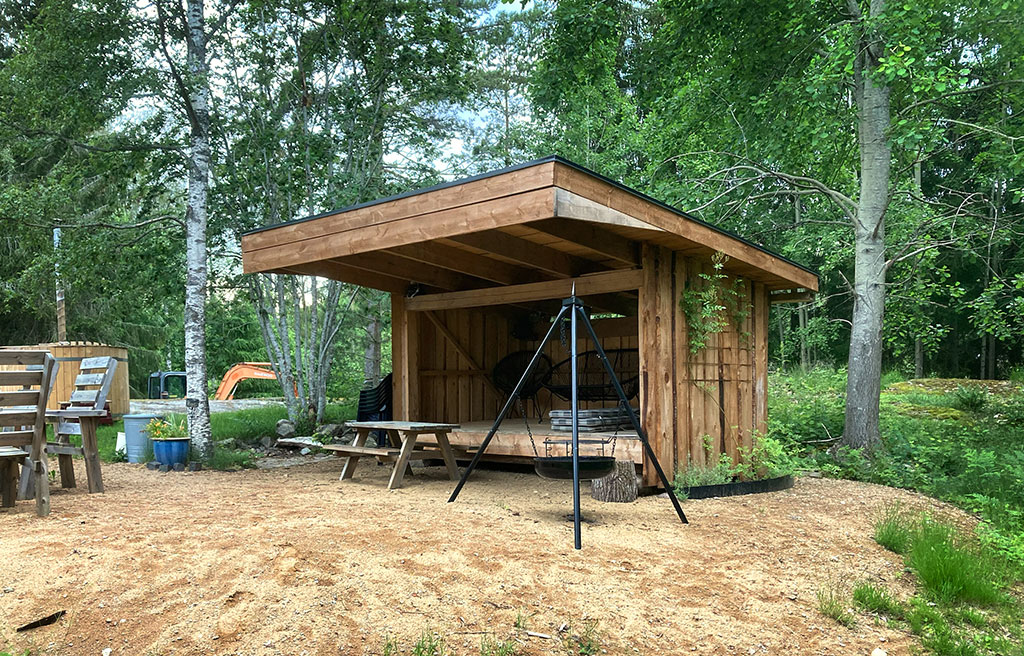 With a sawmill on their farm, there will be a lots of construction! A grand lean-to shelter brings great joy to the Pettersson family.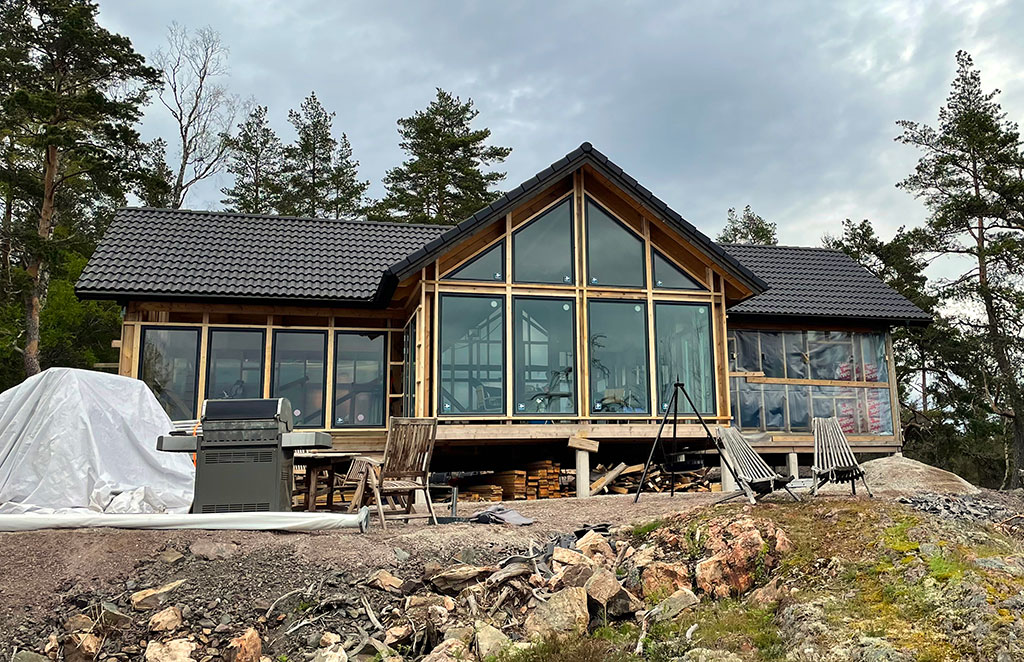 Windows installed spring of 2021. It took a while since the house have more then 35 windows.
THE PETTERSSON FAMILY LUMBER LIST
Floor beams in heartwood, double 6×8 inches (6×16, 150×400 mm) dried for 5 months
Floor joists, 2×8 + 2×4, 630 cm
Walls 2×7 + 2×2 inside and outside
Nail batten for board cladding 1,5×3
Horizontal wall siding 1×8, moulded to tounge and groove
Roof batten 1×4, split into 1×2
Beams for other projects. All in heartwood.
Beams for father in law and son Tomas projects
Roof beams for Thomas 8×10, 705 cm
Structural beams for Thomas house 8×10 550 cm
Roof beams with protrusions for long overhangs 6×8 450 cm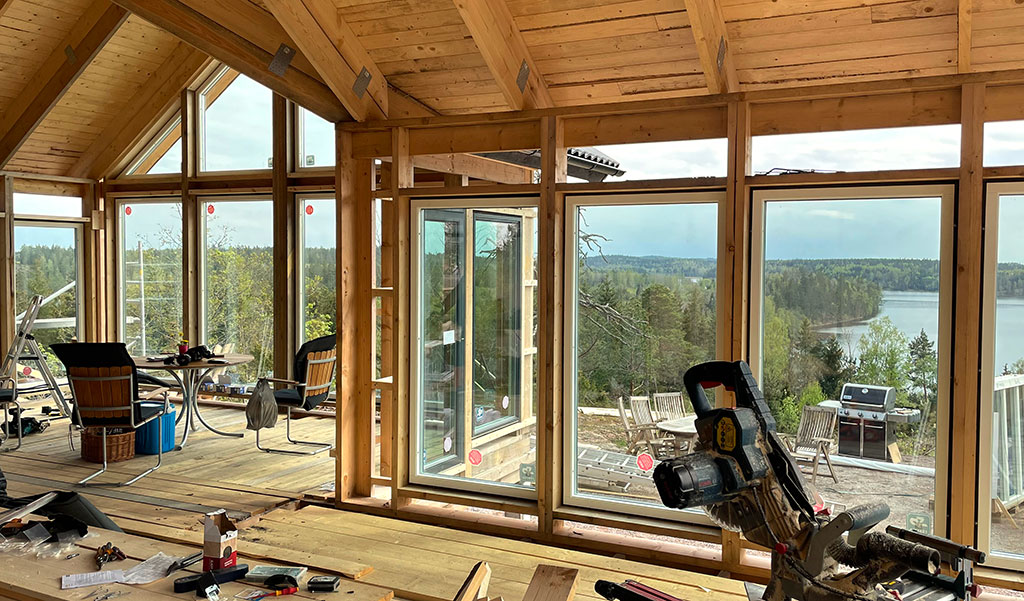 From the house, you can enjoy the fantastic view of Lake Hultsjön, outside of Åmål.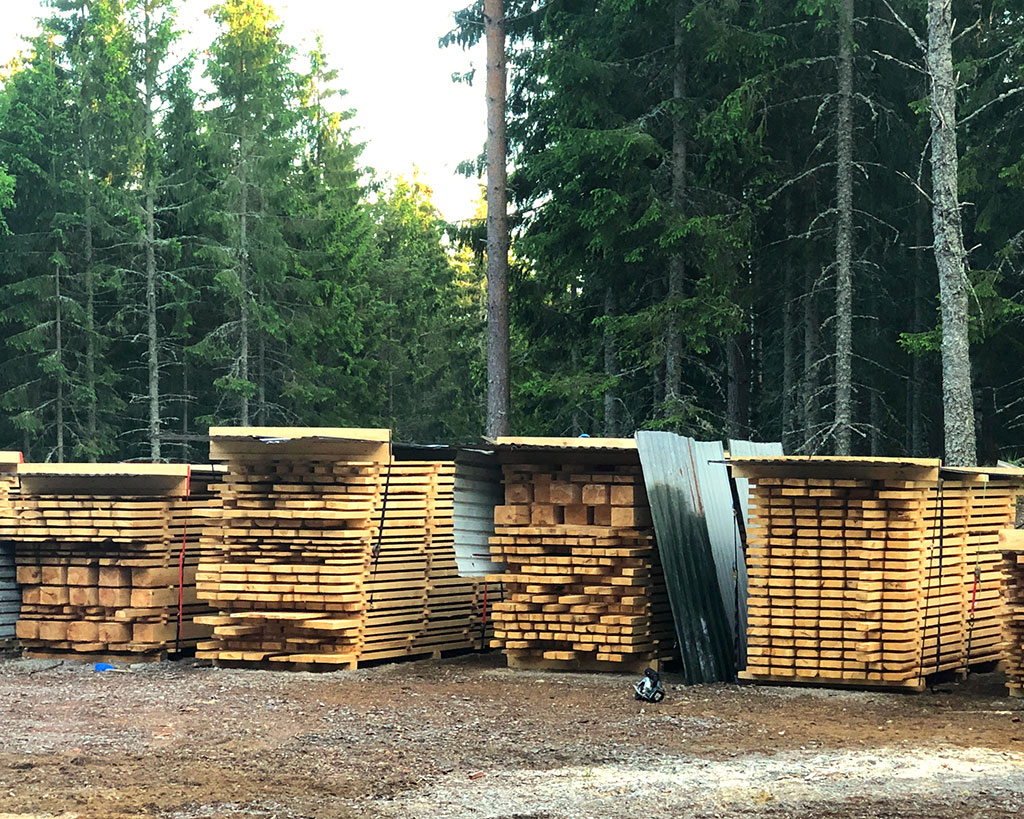 Anders sawed around 5,500 running meters of timber for the house construction. With current lumber prices, the stacks of lumber in the picture represent quite a bit of money.
In its standard configuration, the Logosol B751 has a sawing length of 4.8 metres. This sawmill can manage logs of large diameters, up to 75 cm in diameter. With the fixed steps for depth of cut, you can easily set the sawmill to the desired board dimensions, quickly and accurately every time. You get a rigid and extremely functional band sawmill that is best in its class when it comes to sawing.